Heel Spurs and Orthotics
Tuesday, 30 August 2022 00:00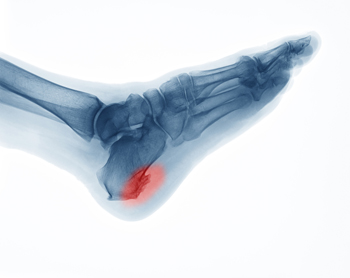 Heel spurs can be quite a nuisance to the health of your feet. Formed by calcium deposits in the feet, heel spurs are essentially bony outgrowths that can form at the front of the heel bone. These outgrowths will typically grow inward, pointing towards the toes of the feet. Although some individuals who suffer from heel spurs do feel some pain, other individuals do not. Heel spurs can be treated in a variety of different ways. Besides undergoing a surgical procedure to treat the heel spurs, an individual might be able to treat the condition with less severe methods. Namely, you might be able to address your heel spurs with orthotics. Orthotics are shoe inserts that are made to help correct foot or gait deformities. They also can provide extra foot support. By wearing orthotics, you might be able to help provide your feet with the extra cushioning and support that is needed to reduce any pain from heel spurs. In the same vein, splints for the feet may also be worn at night. These objects can keep your feet in a stretched position throughout the night. Not only could this keep your plantar fascia in a relaxed position, but it might also help mitigate your heel spurs. If you have heel spurs, contact a podiatrist to see if orthotics or night splints are right for you. 
Heel spurs can be incredibly painful and sometimes may make you unable to participate in physical activities. To get medical care for your heel spurs, contact Abeer M. Foteh, DPM from Greater Houston Foot Centers. Our doctor will do everything possible to treat your condition.
Heels Spurs
Heel spurs are formed by calcium deposits on the back of the foot where the heel is. This can also be caused by small fragments of bone breaking off one section of the foot, attaching onto the back of the foot. Heel spurs can also be bone growth on the back of the foot and may grow in the direction of the arch of the foot.
Older individuals usually suffer from heel spurs and pain sometimes intensifies with age. One of the main condition's spurs are related to is plantar fasciitis.
Pain
The pain associated with spurs is often because of weight placed on the feet. When someone is walking, their entire weight is concentrated on the feet. Bone spurs then have the tendency to affect other bones and tissues around the foot. As the pain continues, the feet will become tender and sensitive over time.
Treatments
There are many ways to treat heel spurs. If one is suffering from heel spurs in conjunction with pain, there are several methods for healing. Medication, surgery, and herbal care are some options.
If you have any questions feel free to contact our office located in Baytown, TX . We offer the latest in diagnostic and treatment technology to meet your needs.
Read more about How to Treat Heel Spurs