How Walking and Running Shoes Differ
Tuesday, 12 September 2023 00:00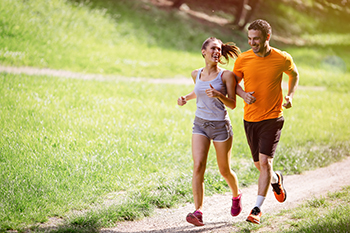 Choosing the right footwear helps to maintain foot health and prevent injuries. To make an informed choice, it's essential to understand the differences between walking and running shoes. For walkers, experts recommend lightweight shoes with extra shock absorption in the heel and under the ball of the foot. These features help reduce heel pain and discomfort in the ball of the foot. Some walkers prefer shoes with a rounded or rocker bottom, allowing for a smooth weight shift from heel to toe. Runners, however,  should prioritize overall shock absorption and torsional strength in their shoes to guard against injuries like tendonitis, heel pain, and stress fractures. Ill-fitting or unsupportive shoes can cause or worsen issues such as toe pain, corns, bunions, ingrown toenails, and postural problems. Inappropriate shoes can also contribute to joint pain and stress caused by arthritis. If you have particular foot or ankle issues, it is suggested that you make an appointment with a podiatrist for help in finding the right shoes for your walking or running experience.
For more information about walking shoes versus running shoes, consult with Abeer M. Foteh, DPM from Greater Houston Foot Centers. Our doctor can measure your feet to determine what your needs are and help you find an appropriate pair of footwear.
Foot Health: The Differences between Walking & Running Shoes
There are great ways to stay in shape: running and walking are two great exercises to a healthy lifestyle. It is important to know that running shoes and walking shoes are not interchangeable. There is a key difference on how the feet hit the ground when someone is running or walking. This is why one should be aware that a shoe is designed differently for each activity.
You may be asking yourself what the real differences are between walking and running shoes and the answers may shock you.
Differences
Walking doesn't involve as much stress or impact on the feet as running does. However, this doesn't mean that you should be any less prepared. When you're walking, you land on your heels and have your foot roll forward. This rolling motion requires additional support to the feet.
Flexibility – Walking shoes are designed to have soft, flexible soles. This allows the walker to push off easily with each step.
If you have any questions, please feel free to contact our office located in Baytown, TX . We offer the newest diagnostic and treatment technologies for all your foot care needs.
Read more about Walking Shoes vs. Running Shoes